SOLD 8 INDIGO ROAD BORO PATCH SCARF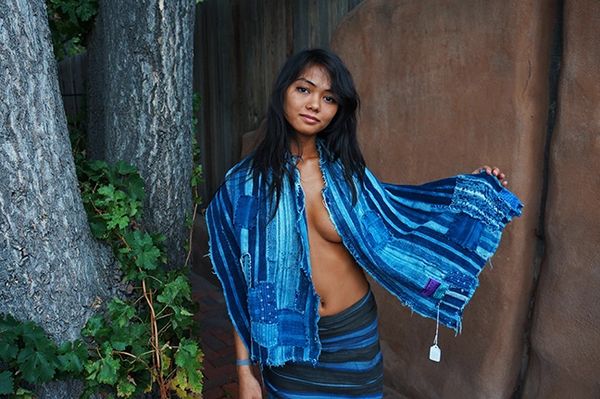 SOLD 8 INDIGO ROAD BORO PATCH SCARF
56" x 16"
Our double-sided antique indigo textile patchwork scarves are a wearable stroll down the ancient indigo road. The human indigo cotton textile obsession is cross cultural, transcontinental, and thousands of years old. We bring you the absolute softest indigo boro patch textiles available anywhere in the world today.
We select the finest quality and coolest looking African 50-150 year old handloomed homespun indigo cloths from all over Africa, as our largest textile piece for each scarf. These cloths are considered lucky and protective, and are made with mystical intentions. A very long time ago, Africans harvested cotton and refined away its razor sharp thorns. Then they laboriously hand spun it into yarns or threads (we do sell both types). Then they hand dyed these strings with crushed and dried indigo leaves. Then they wove them by hand, into long strips on stick framed narrow looms. The African weavers then hand sewed their narrow indigo cotton cloth strips, side by side to create your scarf. Decades and decades passed...
In the Wild West of New Mexico, USA, Jason Pollak and his American and Native American apprentices and artisans lovingly enrich these African indigoantique cloths with other antique indigo road textile patches. Jason's primitively sophisticated boro patch scarf designs are hand sewn at the DEJA VU REFINERY atelier in the oldest district in Albuquerque, called Old Town (founded in 1706, 70 years before America was founded). The patches used are all 100% cotton, 50-200 years old, and real indigo. They are traditionally placed, and often feature highly detailed ornamental shashiko stitching. This is the finest publicly available curated collection of such indigo road textile remnants, straight from our vintage textile archive.
Each scarf features very old antique indigo textiles from the indigo kimonos worn on rural farms and fields of Japan, the indigo block prints of the Hmong hilltribe in Thailand, MidWest and Wild West indigo calico shirting, railroad conductor wabash stifel stripe indigo denim of America, and of course indigocloths curated from the entire continent of Africa. Length, thickness, color, patch distribution, age, condition, and softness, all vary from scarf to scarf. At least one, was made only for you to treasure, as your beloved heirloom.