1900s & 1910s Barber Quarter & Liberty Dime Coin Silver Ingot Navajo Pearl Bench Bead Naja Chiseled Filed Turquoise Necklace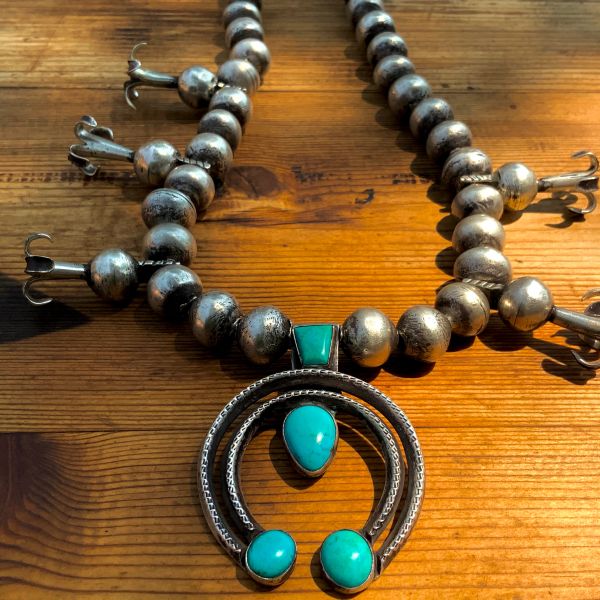 1900s & 1910s Barber Quarter & Liberty Dime Coin Silver Ingot Navajo Pearl Bench Bead Naja Chiseled Filed Turquoise Necklace
These days, found only in books and museums, antique Navajo squash blossom necklaces of this caliber, never make it to the internet.
String on hand cut American Deer Skin Leather.
Barber Quarters & Liberty Dimes.
Very Heavy Long Necklace of Coin Silver Bench Beads aka Navajo Pearls.
The Naja is Early to Mid 1920s, chiseled and filed, with radiant blue hand polished stones. The Baja itself is very impressive.
NAJA: 2.5" Tall & 1.75" Wide
BEADS: 1/2" 
BLOSSOMS: 1.5"
BEADS: ABOUNT 22" Long
ADD THE NAJA HEIGHT FOR A TOTAL DROP OF 24.5" LONG PLUS THE LEATHER STRAPS ADDITIONALLY.